Building a Banging Online Dating Profile
If you haven't attempted, or even toyed with the idea of dating online yet, consider the following highly cogent argument: 

It's 2012. Everyone's doing it. 

Are you sold?
Now admittedly, taking the first step into the limitless world of online dating (with over 1500 sites in the U.S. alone, catering to every possible - and legal - whim) can be daunting. But once you've found a network you like, whether it's Match, OKCupid, eHarmony, or Equestrian Singles, the process gets substantially easier. 

That said, creating your profile is no piece of cake, unless you're the type who relishes neurotic self-questioning. What kind of portrait should you paint of yourself? How much skin should you show in your picture? Should you hide or flaunt that schnozz of yours? How do you approach someone you're interested in? Sending the wrong signals can quickly render a digital Don Juan (or Doña Juanita) into a single cyber creep. Luckily for you, we've scoured the Internet on your behalf and laid out the simple steps for you to propel yourself to the heights of online dating success. 


THE PROFILE

The goal of your profile is to create interest and spark a conversation. Don't write your entire life story; make browsers eager to know more.
Show, Not Tell: Use details to describe yourself and your interests. Stating that you like "sports" doesn't interest anyone, whereas mentioning how you dabble in "bocce ball and llama polo" gives you some flair and character.
Spell check and tighten! Make sure the entire profile is written to a proper length and free of spelling errors. Write short and snappy paragraphs.
THE PHOTO
Your photo is the most vital tool you have in attracting other singles. Analytics have shown that only 10% of online daters bother to read a profile without a photo, so even if you're armed with a beautifully written bio, being faceless is essentially a death sentence for your dating search. Now, don't be hasty and throw any old photo up there. As always, there's a right and a wrong way to approach this. 
While you can't change your overall attractiveness, you can choose pictures that make you look your best. A photo taken from a bad angle, with an awkward facial impression, poor lighting, and a confusing background is going to hurt even the most stunning individual. 
You'll want to avoid these common mistakes: 
Blurry Photos
 - It's called auto-focus. Use it.
Being Distant
 - Don't stand too far from the camera. Opt for a shallow depth of field, with you clearly in focus
Bad Poses
 - Save your yoga moves and photographic evidence of your attempts to lick your elbow for later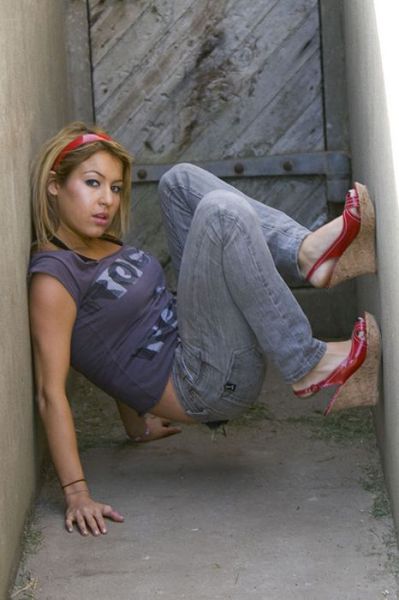 Baring It All
 - Showing too much skin, this goes for guys as well as girls. 
Photoshop Trickery
 - The close-cropped picture of a person who is probably overweight is the classic example. Minimizing your "flaws" is the opposite of what you should do. If you're insecure about a body part or blemish, play it up. Not matter what it is, it'll be easier to deal with online than as a "surprise" on your first date 
Too Bright! - 
Using a flash in your photo could make you look up to 7 years older. What that means is, a 28 year old who uses a flash is considered as attractive as a 35 year old who doesn't. 
Also, the type of camera you use can affect how attractive others perceive you - while they're easier, don't rely on camera phones. 
A 
great photo
 has the person's eyes peering into or past the camera with a confident look on their face. It won't be busy, but have enough going on in it to spark a conversation. 
OkCupid
 stats indicate that a woman's main photo should feature her looking 
directly
 into the camera, while men can look off to the side. 
Intern Steve shows how it's sort-of-but-not-really done…
Statistics on 
OKCupid
 have shown that the 
best time
 to take a photo is at sunrise or sunset. 
Finally, try to have a variety of interesting photos of yourself - not just party pictures or semi-artistic head shots.

THE FIRST MESSAGE
Now that your profile has achieved perfection, you're ready to start mingling. But how do you make the first move online? What is a perfect first message to send someone who looks appealing? 
Remember, this will be their first impression of you. A captivating first message must serve to pique the receiver's interest, and separate you from the crowd. 
Don't waste the first line with the nightmarish and overused, 'I can't believe I'm doing this.' Be unique. Be fun.
The ground rules for first messages: 
1. Be literate - Netspeak, bad grammar, and bad spelling are huge turn-offs.
2. Avoid physical compliments
Although the data shows this advice holds true for both sexes, it's mostly directed at guys.
People like compliments, but when they're used as pick-up lines, before you've even met in person they just don't work.
3. Use an unusual greeting 
The top three most popular and natural ways to greet someone - "Hey," "Hello," and "Hi," have been shown to actually be less successful than alternatives.
Even the slangy holla and yo perform better, even though they go against the "be literate" rule.
In fact, it's smarter sometimes to use no greeting at all. Just dive into whatever you have to say rather than starting with hi.
4. Bring up specific interests 
Talking about specific things that interest you or that you might have in common with someone is a way to make a connection
In fact every "niche" word that we have significant data on has a positive effect on messaging. 
Even more effective are phrases that engage the reader's own interests, or show you've read their profile
So there you have it, you're all ready to take on Online Dating. If you have any more suggestions or ideas, or fun/terrible experiences with dating networks, let us know!